Printable Educational Board Games for PreK - K 5 grades for Math | "Who's Counting"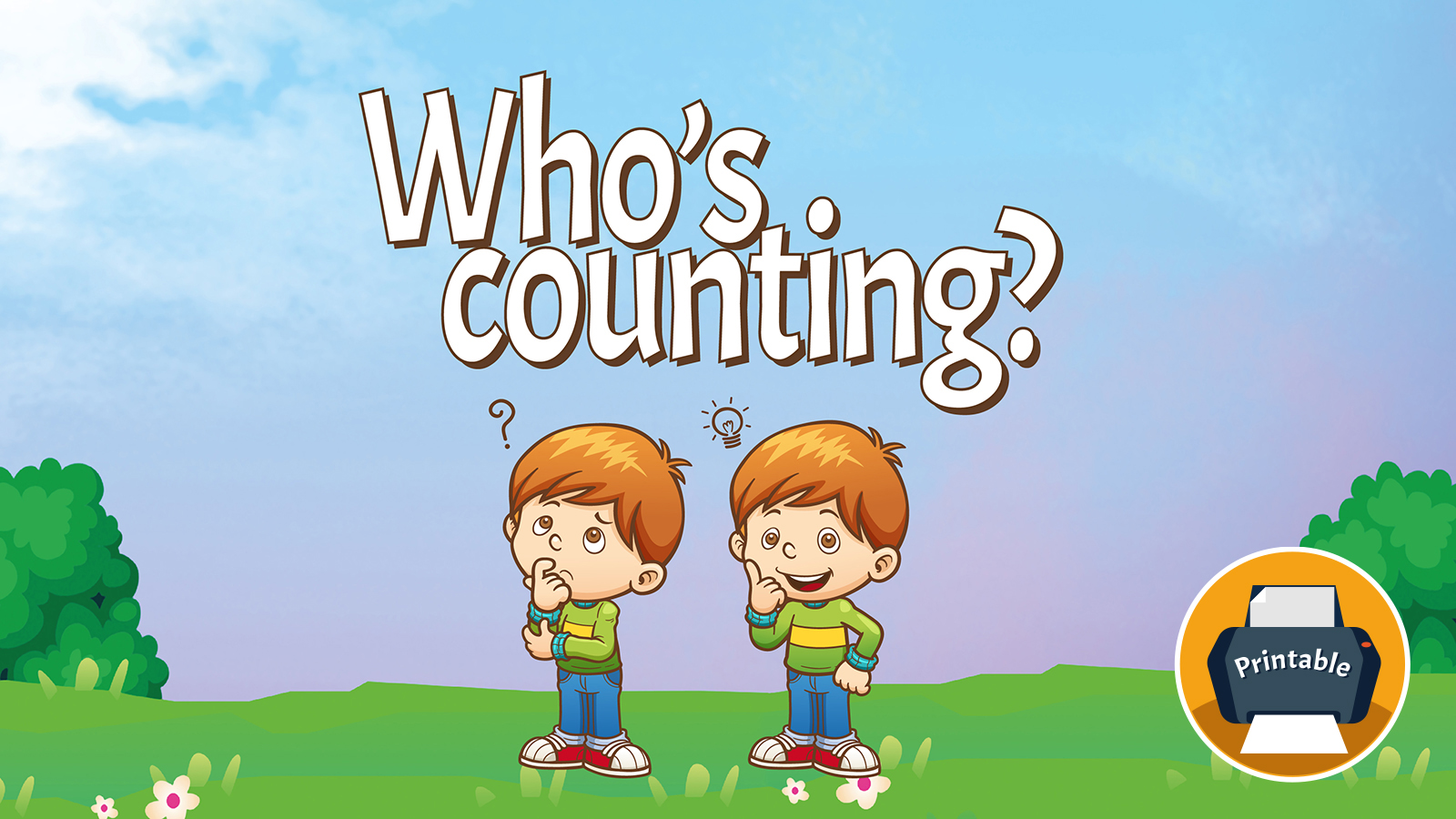 Are you looking for educational materials for your students to practice at home?
Here are some resources for you to send to parents to use with their children! These will help them develop number sense and familiarity with counting. Download and email a PDF or Zip or print out and provide a hard copy of these board games.
Who's Counting?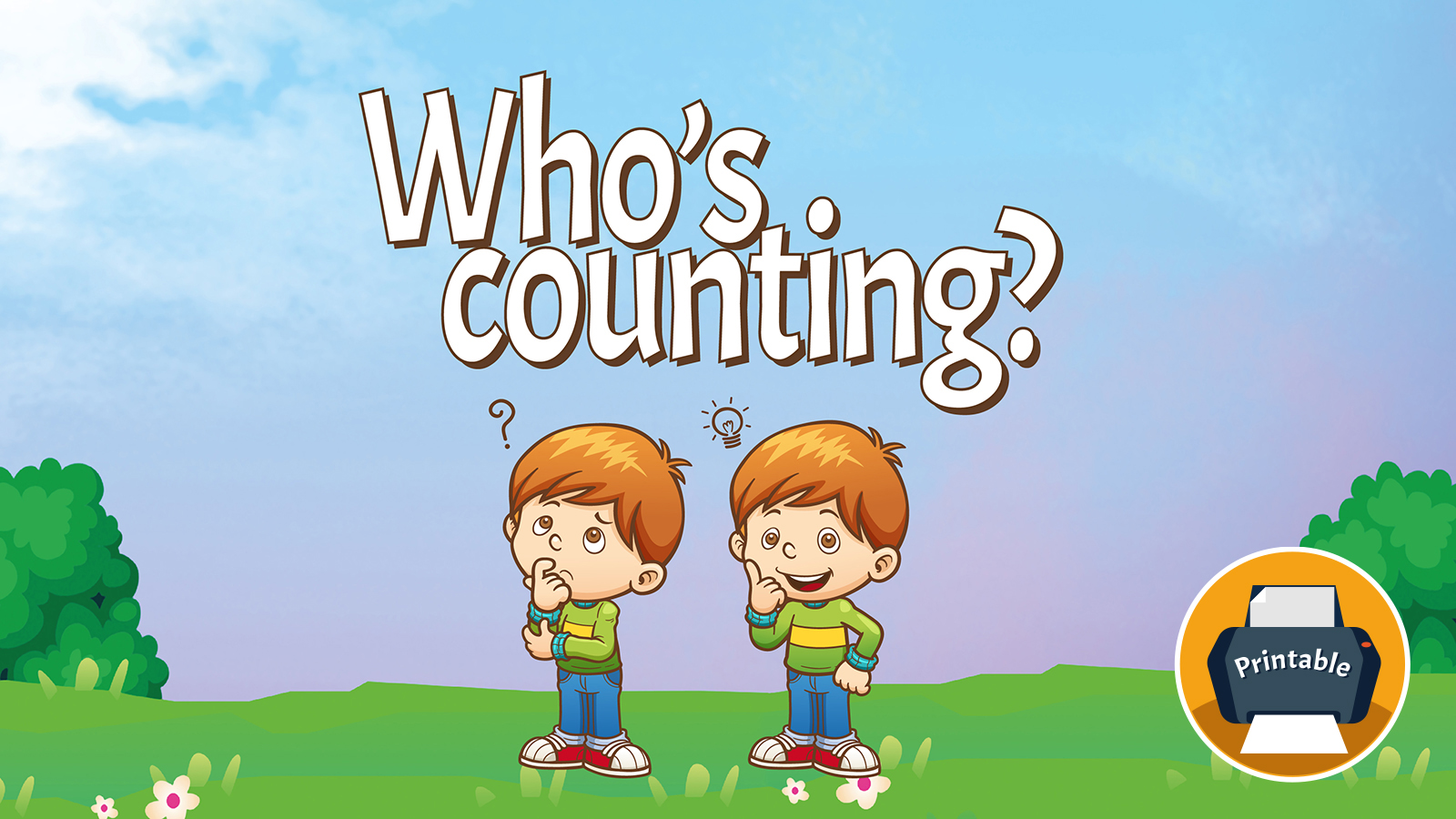 1) Number and Picture Puzzles for 1-20
This game offers a set of numbers and corresponding objects that are the same amount as the number. Each is a different colorful set of graphic images. These can be printed and used in multiple ways.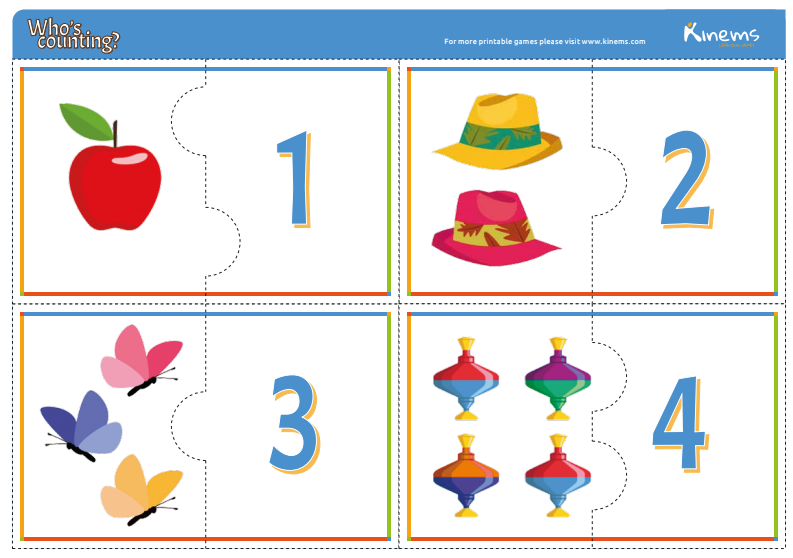 This is a self-correcting puzzle game. There are four letter-number puzzles to a page. Cut up each page into 4 and then cut each of the puzzle pieces into the two pieces that match. There is a number on the right side of the puzzle piece and a set of corresponding items on the left. Each puzzle has a line to cut to make a unique match possible.
Mix up the cut pieces and the child can match the pieces according to the graphic reinforcing the appropriate match.
Have the child count each object and find the matching number.
Download Who's Counting 1 Board Game
2) Cards with numbers 1-100
This resource provides colorful cards with numbers for counting from 1-100. There are eight numbers to a page to cut up.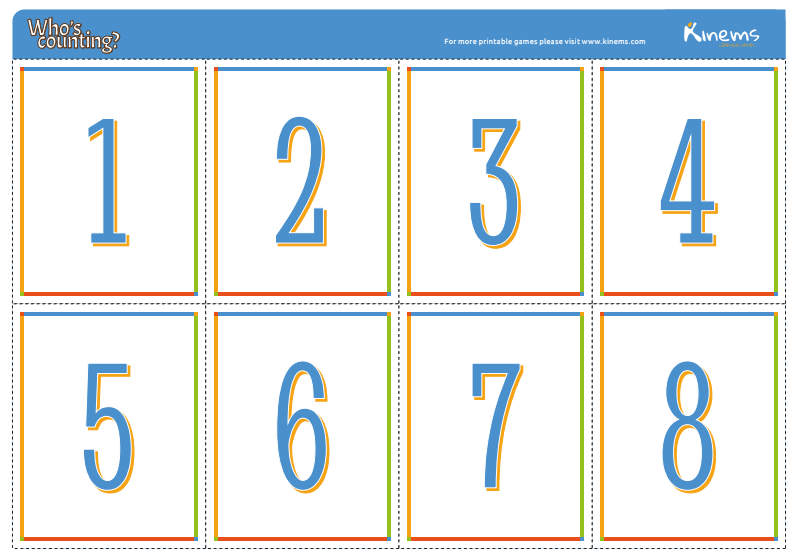 Use these cards like flash cards to help children to memorize the names of each number.
Put a number out each day and use found objects like pebbles or buttons or bottle caps to count out and represent that number.
Tape to the wall to make a number line from 1 – 100 and then use as a number line to practice counting.
Use the number line for adding and subtracting. Go ten forward and subtract three moving back three numbers and what do you get?
Download Who's Counting 2 Board Game
3) Numbers with Dots 1-20
This is a great resource for teaching the number sense of each number. Every card has a number and a set of dots that represent that number. There are four to a page to cut up.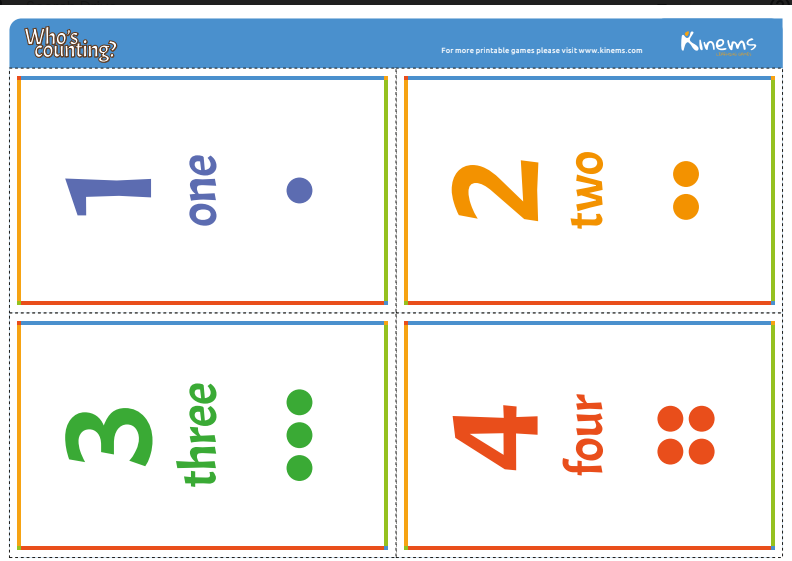 Print these out and cut them so that each is one number with the corresponding number of dots.
Use these to place found objects like bottle caps or buttons as counters on the dots.
Use these to find out which numbers your child knows and which they need to learn.
You can tape these to the wall in your child's room.
You can use these one at a time to feature a number and use that number all day in activities.
You can use them as flash cards to quiz your child.
Download Who's Counting 3 Board Game
Some games require cutting and preparation. The first page of each game has a little paragraph that explains the purpose of the game in simple English so it is easy for parents to understand the concept. On some games there is a little "box" to cut out and assemble to keep the cut up game items inside in order not to lose them.
Kinems offers a wide range of educational resources and effective lesson plans, as part of its "Whole Child Approach".
This is a holistic educational approach that cultivates the spiritual, emotional, physical, and psychological dimensions of a developing child. It goes beyond their academic and future professional success, to prepare children to meet the overall challenges they will face later in life.
Learn more about Kinems "Whole Child Approach" by booking a free demo with one of our educational experts: